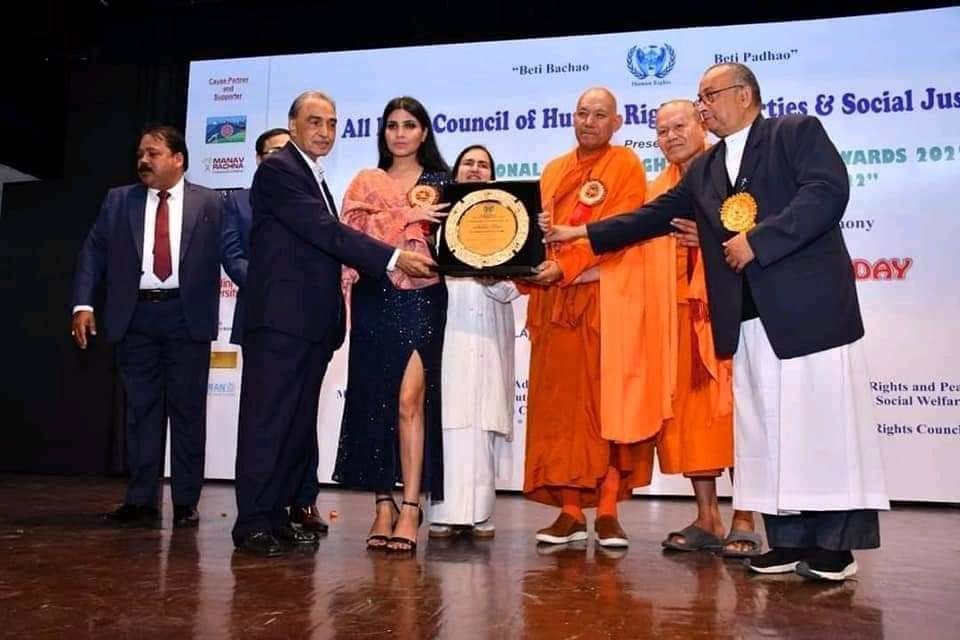 New Delhi (India), April 27: Zarine Manchanda, a role model, a youth icon, and an inspiration to many Indian women has blazed a trail for Indian women entrepreneurs in India and around the world to shatter glass ceilings and inspire the rest to take charge and strike a balance between personal and career aspirations, and excel in whatever they choose to do.
Zarine Manchanda, while spearheading this epoch, is a young lady who is arguably the most talked-about young woman in India right now, not just for her go-getter, gumptious, unrelenting spirit of entrepreneurship but also for her devotion and dedication to speak up for, protect, and support the rights of the disadvantaged. Zarine Manchanda may be the young Indian woman with the greatest credentials right now. She is a rising media figure both domestically and internationally. By being featured more than 20 times in significant publications just in 2021, she has gained not only the coveted distinction of being covered by prestigious business and political publications for her accomplishments as a young, award-winning Business woman MD and philanthropist but also by glamour and lifestyle publications due to her vibrant and attractive personality and glamorous lifestyle.
Her life story is nothing short of a blockbuster Bollywood saga, starting from the spiritual town of Dharamshala in Himachal Pradesh, where she was born into a powerful and wealthy political family, her father was a state cabinet Minister, to her personal aspirations in pursuit of fame and a glamorous lifestyle in the quintessential dazzling world of Bollywood, and finally diverging to creating her own Entrepreneurial & Philanthropic Legacy.
Through her odyssey of self-discovery, she unveiled her potential and a higher life calling. Not only was she endowed with beauty and charm, incisive intellect, business acumen, and an eye for elitism but also a spiritual energy that beckoned to her, adding to her personal mystique and allure.
Her meteoric rise and fame and sterling list of accolades that followed are just as captivating and inspiring.
Zarine created a philanthropic NGO, The Zarine Manchanda Foundation Trust, in Aarey Colony, Mumbai, in 2019 in order to build her own political base. Despite COVID-related lockdowns, the Foundation ran over 150 food and clothing distribution programmes in Aarey in two years and is a top-rated, reputable NGO.
With this achievement, Zarine made another brave move, advancing into the hospitality sector by founding The Zarine Manchanda Café in Mumbai. Its tagline is "Delectable, Luxurious Spiritual Charm." The Café's USP, in addition to the fashionable and sophisticated décor and tableware, is the offering of a blessing to its clients and the ringing of Tibetan Bells from Dharamshala.
The Café's elegant décor was designed by another of her enterprise, The Zarine Manchanda Interiors. Zarine Manchanda is currently known as the Founder of the 7-Star Café Experience in India, and she intends to aggressively expand the café in India and abroad as a global franchising brand.
Zarine, who is still pursuing her ambition of becoming an actor, founded The Zarine Manchanda Productions.
Zarine was invited to join BRICS, the prestigious geopolitical and economic trade organization that brings together five important nations to pursue increased trade and mutual economic interests, as a result of her extensive media coverage in India's leading business and political magazines as an award-winning philanthropist, CEO, and a young entrepreneur. Brazil, Russia, India, China, and South Africa are among the BRICS countries. Zarine Manchanda was named Regional Director, Mumbai, for BRICS' Indian Chamber of Commerce & Industry in December 2021.
In October 2021, Zarine launched two new companies in 2022, adding to her brand, award-winning multiple business expansion as a young woman entrepreneur: "Heavenly Flavors," a 7-star cloud kitchen and food delivery service, and Zarine Manchanda Premium Security Service, a 7-star security agency.
In March of 2023, she set up two new ventures The Zarine Manchanda Flavours of Himachal Pradesh Restaurant, showcasing the exquisite taste and cuisine of Himachal Pradesh and The Treasures of the Himalayas, a boutique exhibiting beautiful artefacts of spiritual charm
Because of her privileged upbringing and her exemplary and outstanding charity work, India's media has labelled Zarine as a "Princess of the Poor," poised to be a "Mother to Millions," in homage to Zarine's two lifelong role models, Princess Diana and Mother Teresa, who forged a deep and unique friendship and connection in India focusing on helping the poor through charity and service.
Zarine was honoured with even more important accolades in 2021. She is a two-time National Award winner for her remarkable and excellent work with the needy through her Foundation, which she won from Maharashtra's Governor, the renowned Bhagat Singh Koshyari.
Zarine received the Nelson Mandela Peace Award, which included a Doctorate Degree in appreciation of her outstanding services to serving the impoverished and supporting India's most disadvantaged people.
Zarine's extensive media coverage includes:
Forbes Magazine ("Icons of Inspiration",; "Business Icons", "Inspiring Leaders",; and "Game Changers");
Fortune Magazine ("In Conversation with Zarine Manchanda: A Remarkable Life Story and Unique Branding Concept")
Economic Times ("Inspiring Women Award" and "Award for Multiple Business Expansion"); "Zarine Manchanda: A Rising Entrepreneur")
Times of India ("Power Women Award"; "Zarine Manchanda: A New Breed that Represents Young Empowered Women"; Inspiring Social Worker Champions the Cause of the Poor"; Shining a Bright Light During the Darkest Days of COVID); Answering the Faraway Prayers of Blind Children")
India Today Magazine ("45 Celebrated Indians, Life-Changing Moments")
Midday ("Zarine Manchanda: Limitless Possibilities for the Media Star")
Hindustan Times ("Zarine Manchanda Foundation: All About Good Deeds and Efforts")
Bombay Times ("Zarine Manchanda: Young Entrepreneur with a Difference"); Savour Gourmet Delicacies at this Luxurious Café")
Femina Magazine ("Fabulous 50 Women 2020"; "Empowered Woman and Role Model; Showstopper, award-winning Entrepreneur, Philanthropist and Rising Politician"; "Poised to Become India's Princess of the Poor and Mother of Millions")
Filmfare Magazine (Profile of Production House Zarine Manchanda Productions)
HELLO INDIA launch issue ("Zarine Manchanda: Beauty and Benevolence")
Vogue Magazine ("Zarine Manchanda: Leading by Example")
Times of India / ANI: ("Zarine Manchanda Foundation Poised to Grow with 80g Certificate Now in Place")
Robb Report ("Seven Star Wonder" and "Zarine Manchanda: The Rising Politician, Award-Winning Entrepreneur, Philanthropist, Regional Director at BRICS CCI, Fashion Model and International Icon")
Business Vision Magazine (cover; "An Inspiration for All Women Entrepreneurs)
CIO Times (cover, Top 5 Finest Women in Fashion Ruling the Industry)
Innovative Zone Magazine ("Beauty & Benevolence, an International Icon")
Business Connect Magazine ("Beauty, Brains and Benevolence")
Business View Magazine (cover, "An Inspiration for All Women Entrepreneurs")
The Explore Magazine (cover, "Galaxy of Grace, Grace of Glory")
https://thezarinemanchandafoundation.com/video/
https://www.instagram.com/zarinemanchanda123/?igshid=YmMyMTA2M2Y%3D
https://www.instagram.com/zarinemanchandafoundation/?igshid=YmMyMTA2M2Y%3D
https://www.justdial.com/Mumbai/Zarine-Manchanda-Foundation-Goregaon-East/022PXX22-XX22-180414194618-G3P5_BZDET?via=scode
If you have any objection to this press release content, kindly contact pr.error.rectification[at]gmail.com to notify us. We will respond and rectify the situation in the next 24 hours.